There's something special about a room full of canopies and drapery. Clean lines and solid colors are straightforward, but soft lines, interesting textures, and multiple colors and patterns are alluring and mysterious. To me, this is the epitome of femininity. Rather than being simple and easy to take in, the complexity and beauty of it creates a sense of wonder and invites one to explore.

Make your living space just a bit more intriguing with these creative curtains and canopies.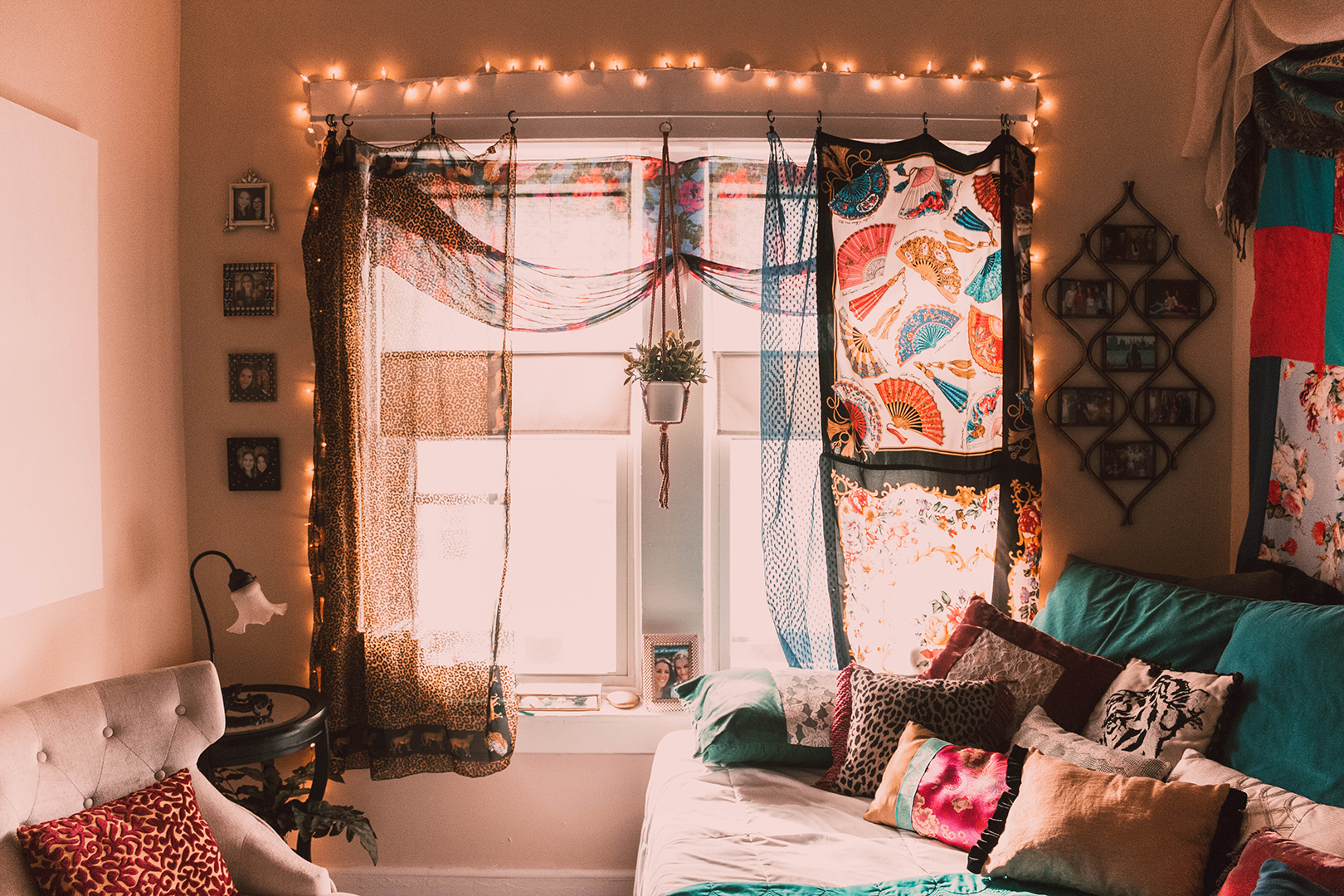 Scarf Curtain Panels
Thrifted scarves are the perfect way to create a hippie chic curtain or canopy for your bed. At about $3 apiece, this was much cheaper than purchasing fabric.
The oversized leopard scarf was the perfect size for my window, so all I had to do was create a second panel in a similar size. These two scarves had totally different patterns, but the black border ties them together. They weren't quite wide enough alone, so I added this pretty blue scarf to pick up the rich blue in the fans. A patch of matching blue fabric filled in the rest. I've described my style as boho boudoir, so the funky bohemian curtains mixed with the very French fan pattern perfectly fits that description.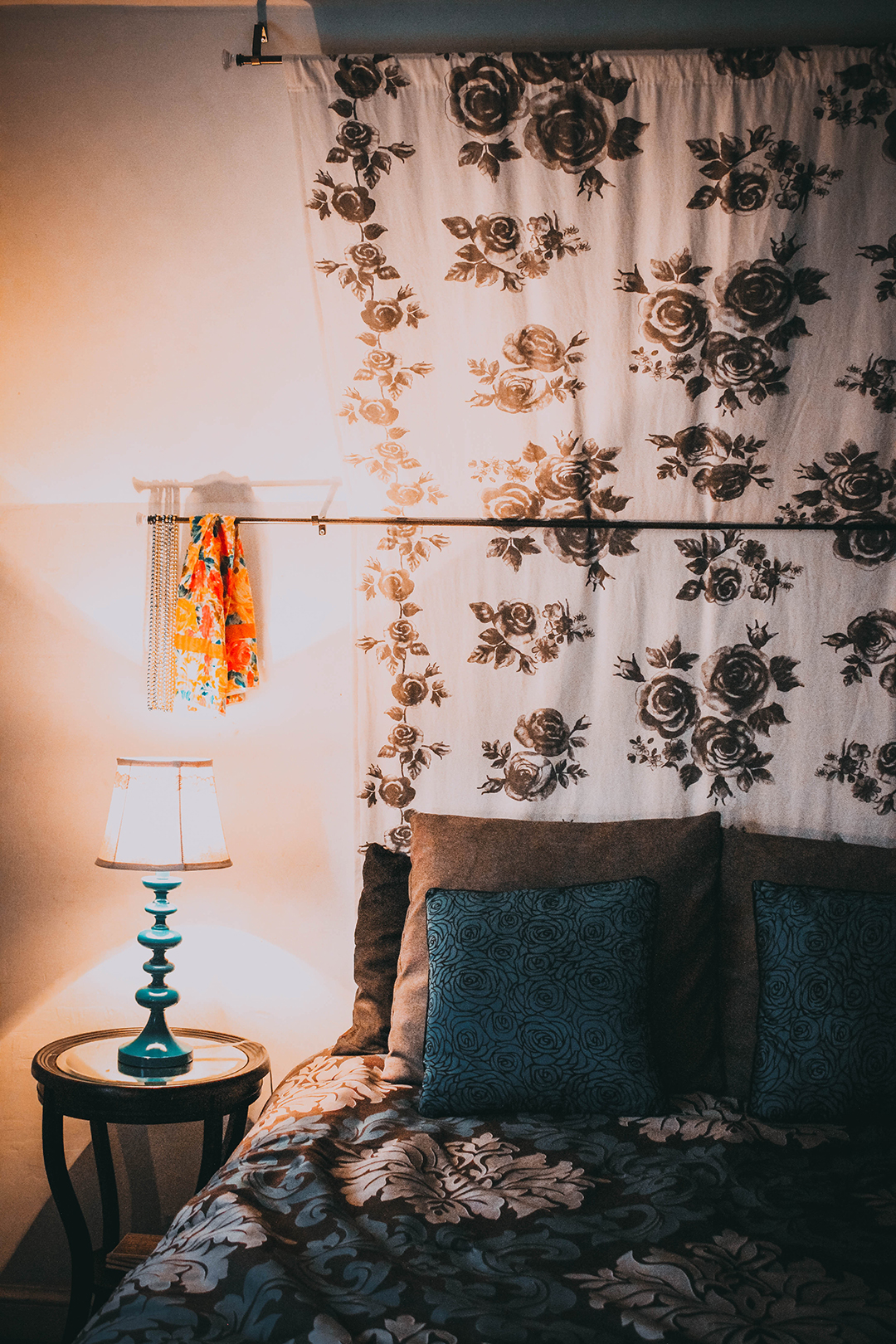 Rose Canopy
This canopy is actually a throwback from when I lived with my parents. I purchased this panel of rose fabric from Ikea a few years ago, and I still adore it. The rose pattern is lush and classic, and I love that the neutral colors have allowed me to use this piece in a variety of ways over the years.
The fabric hangs on the wall behind my bed in my current room, but I don't think it will ever come close to the way this was displayed in my old bedroom at my parents house. Our second floor has sloped ceilings, and I took full advantage of that when I designed this canopy. It hung by a curtain rod that hung right by the ceiling, and then was tucked behind a second curtain rod at the base of the slope.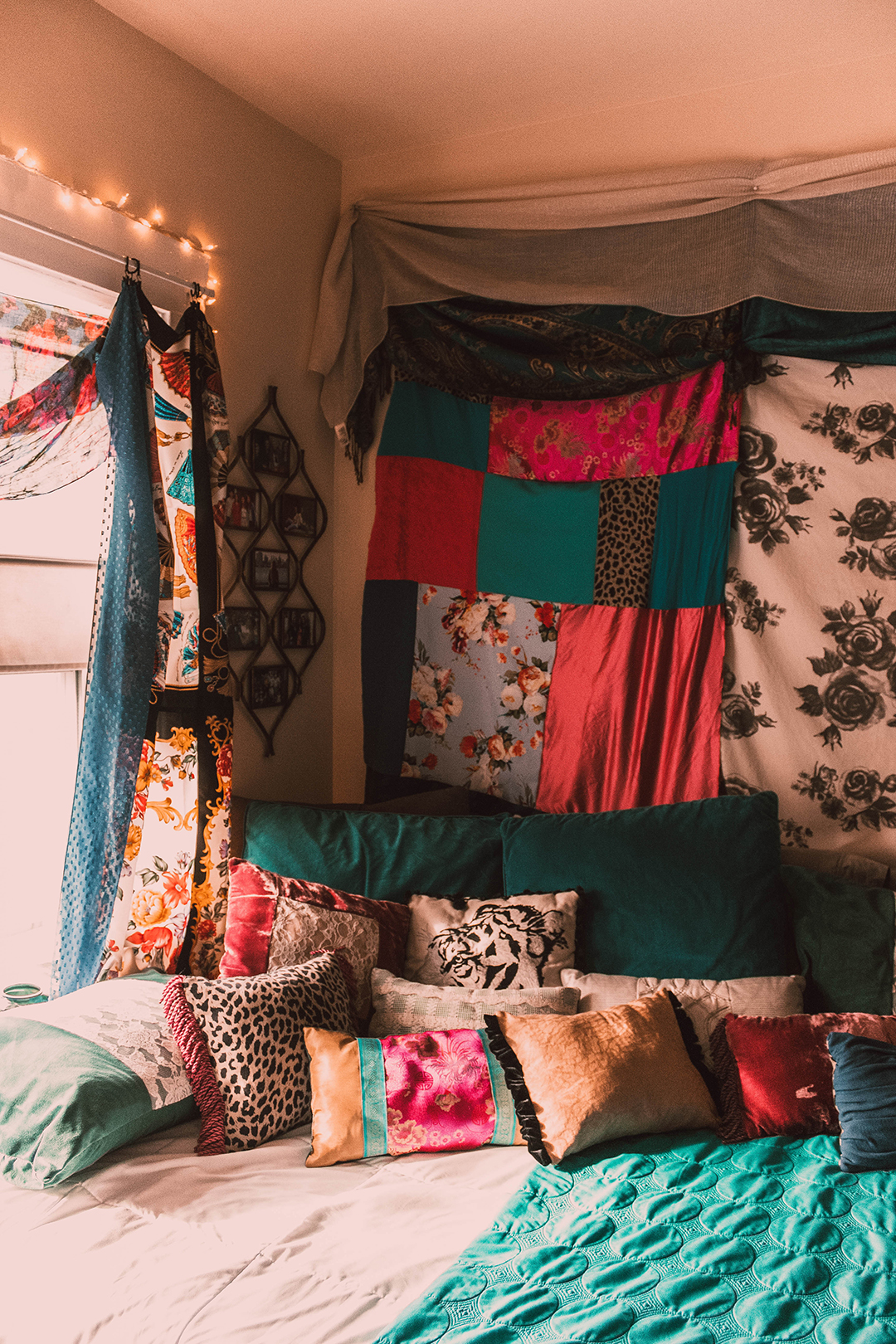 Fabric Scrap Canopy
The fun thing about this canopy is how easy it is to pull together. Mix and match your favorite fabric scraps to create your own custom work of art! If you follow my Instagram, you'll recognize these fabrics from many of the pillows that I've shown. The dark blue pieces are actually parts of a sash that I removed from a vintage dress.
The key to achieving the 'gypsy chic' vibe rather than a 'country patchwork quilt' is texture mixing. Mix pieces of varying weights and finishes. Here you see silk, velour, brocade, and cotton among other fabrics.
For a funky laid-back vibe, make the whole thing patchwork and use smaller pieces. You could even try using oddly shaped pieces instead of squares. For a bit more finish, use larger pieces and add a strip of the same fabric to the top and bottom to pull everything together. Add a backing in a solid fabric that coordinates with the piece.
I'd love to see your take on these canopy ideas! Share your pics on Instagram and tag @ItsLaurenDee.