I still remember the first time I visited the Metropolitan Museum of Art with my friend from college — his name was George. At first, George and I were chatting with each other, sharing our thoughts on each exhibit. But the deeper we got into the museum, the more quiet we became. The art we encountered entranced us, pulling us deeper into our thoughts. We would silently circle through each exhibit, taking it in deeply and then without any words, we would find each other before moving on to the next room.

Art holds an amazing, unspoken magic that draws you deeper into your inner world. When you hang art in your home, it's not just a decoration — it has the power to cause people to pause, to dream, to reminisce, or to wonder.
Original artwork is usually expensive to procure, but even a framed print can take a chunk out of your wallet. I firmly believe that something you truly love is worth the splurge, but there are also plenty of ways to fill your home with beautiful art at an affordable price. Here are four tricks I've used for my own apartment!
1. Purchase your frames or artwork secondhand.
Frames can be so expensive when you buy them all full price. If you have the patience to look for them, you can find equally beautiful frames for a fraction of the cost. Most of the frames in my home were bought at secondhand stores or at yard sales.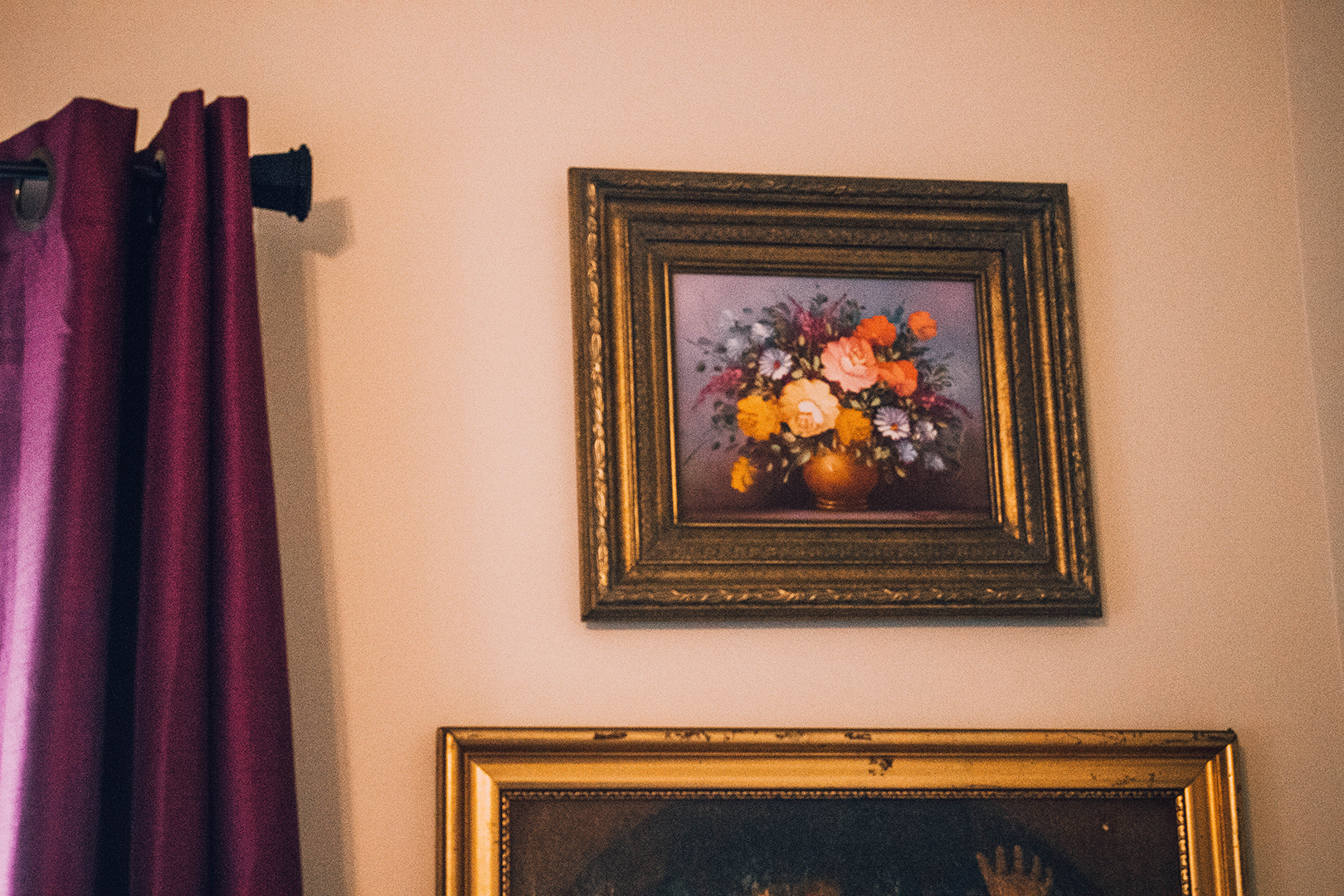 I've also managed to score a small collection of gorgeous oil paintings by shopping secondhand. The trick is to shop often – pieces like these tend to go fast once they make it to the thrift store. I once saw an oil painting in a thrift store and decided to think about it for a few minutes – it was gone by the time I got back.
[SHOP ETSY: Robert Cox Floral Still Life →]
Getting a beautiful piece for a low cost is thrilling, but don't let the price you pay fool you into seeing your art as less valuable than it is. Grabbing a beautiful oil painting at a low cost is a steal. You're getting an original work of art that has someone's creativity, passion, and time put into it. The price you're paying doesn't even come close to the actual worth of the item you're buying. This always reminds me that even when I purchase something for a low cost, I need to appreciate that it's value is actually much higher.
2. Frame a pretty fabric.
I fell in love with the floral pattern on this fabric remnant that I purchased from Joanne Fabrics, so I put it on display by framing it.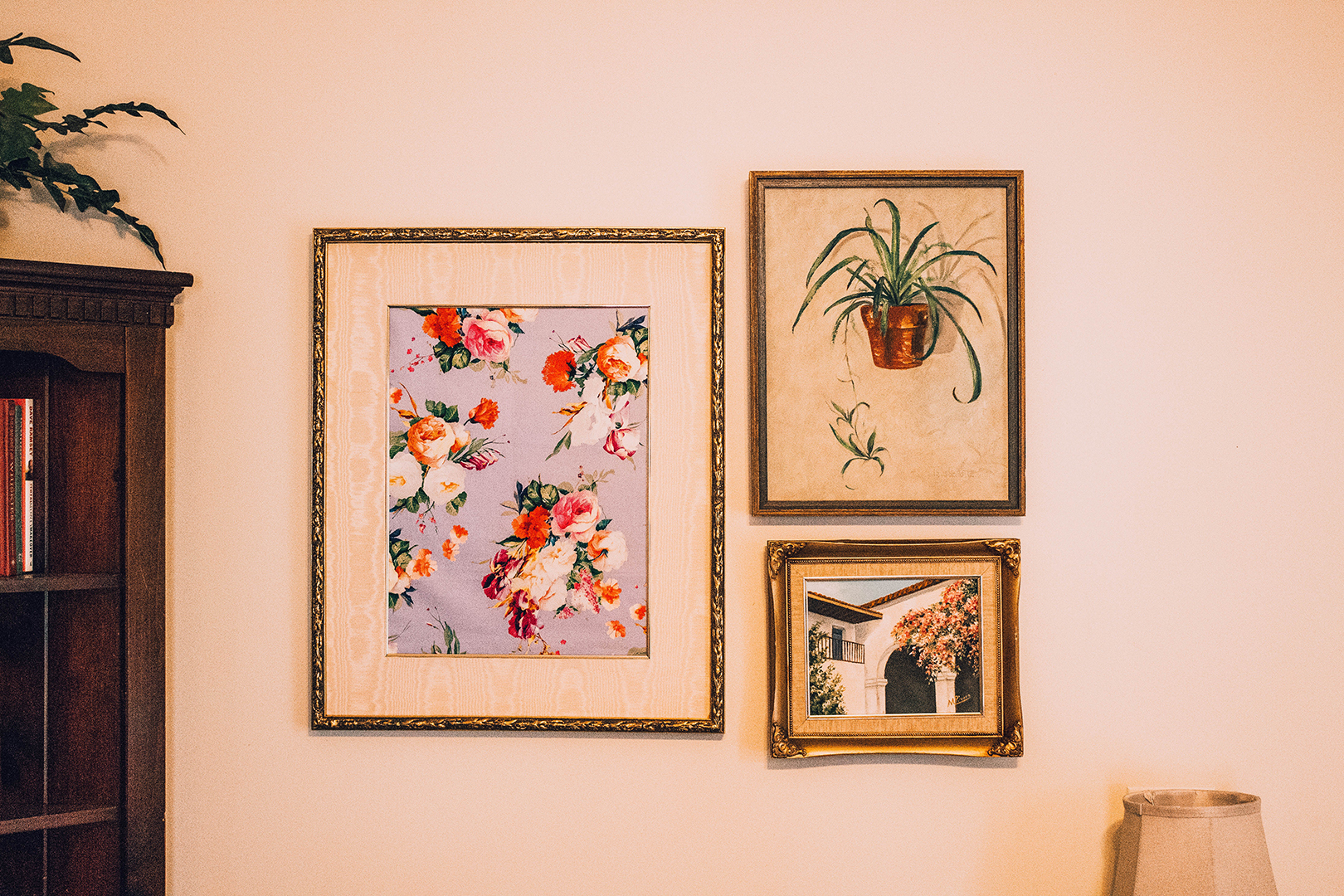 If you try this, consider removing the glass from the frame. This displays your pattern glare-free and allows the texture of the fabric to stand out!
3. Frame a favorite piece of jewelry.
I liked this jeweled statement necklace so much that I had been draping over my doorknob so that I could always look at it. I decided to go all out and create the perfect framed backdrop for this gorgeous piece.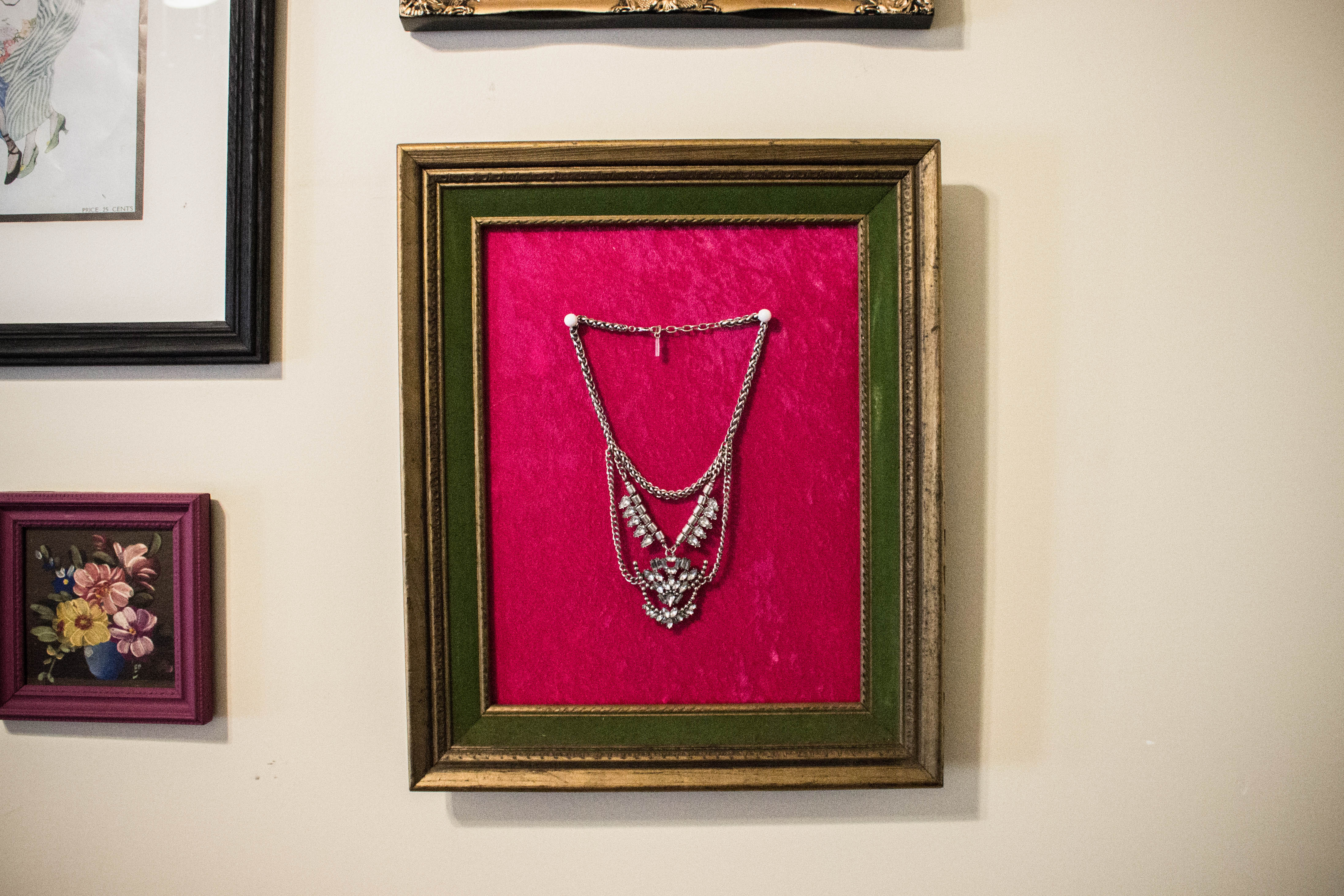 The frame was a $1 yard sale find – it had no glass or back, just an empty frame. I loved the green textured fabric that gave this frame a unique look. I purchased sheets of cork board from Walmart and cut them to size with a razor blade. Then, I used hot glue to wrap this bright pink fabric around the board. I inserted the finished piece into the frame and added two pretty pushpins. Voila! The perfect necklace display.
Keep in mind: If you use this jewelry often, don't pin the necklace directly to the board – just rest it over the pins. You don't want to be pulling them pushpins out too often because eventually, you'll start to see the holes in the fabric.
4. Hang plates or trays as artwork
I love beautiful vintage plates, and it's so easy to grab them for a few dollars apiece at a thrift store. I compiled a collection of plates that coordinate without matching.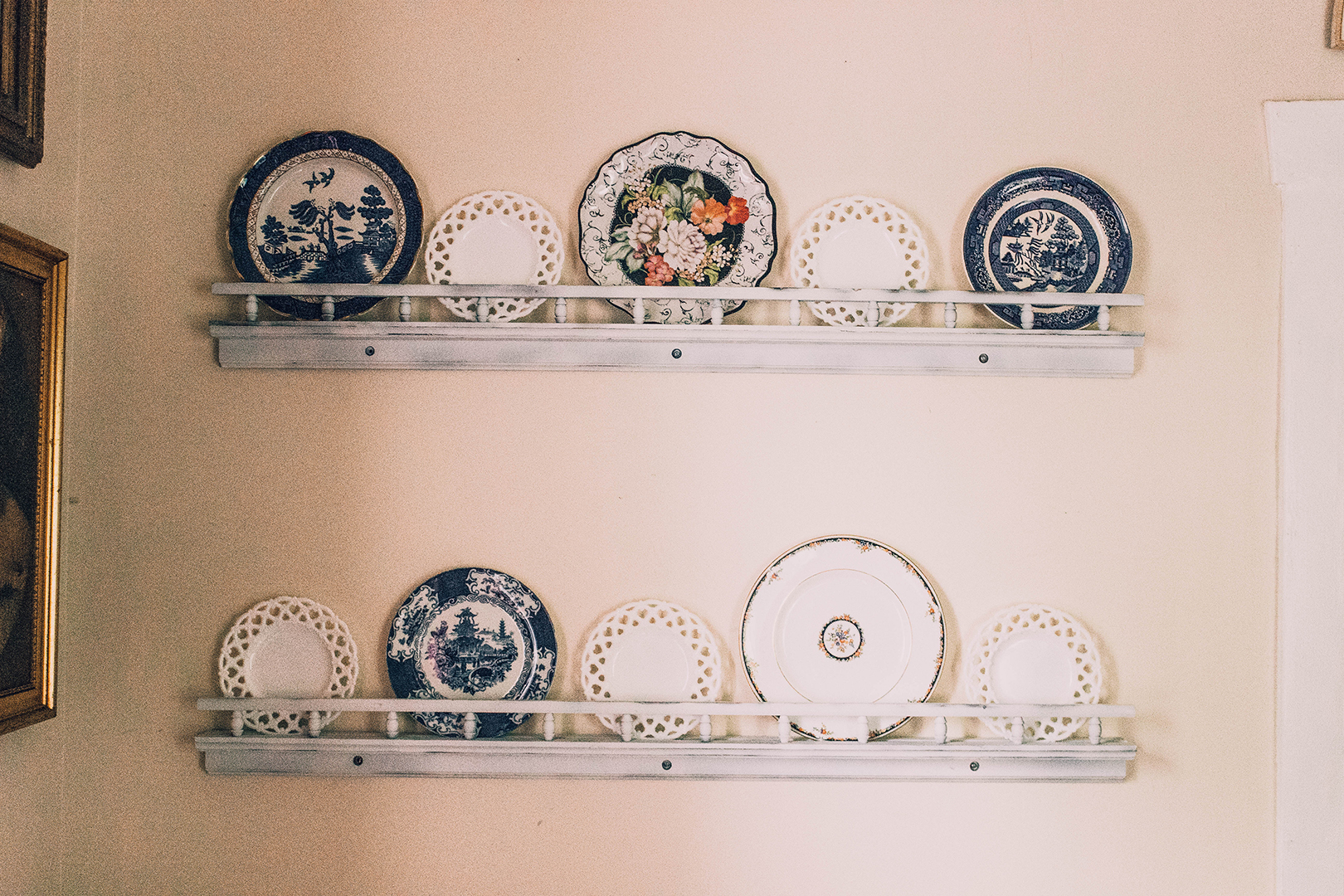 I have a vision of using this adorable mismatched plates setup for a house party someday. I have them displayed on chair rails in my living room.
Beautiful trays are another easy artwork option. Grab one in a pattern that you love and hang it alone, or mix it into a vignette.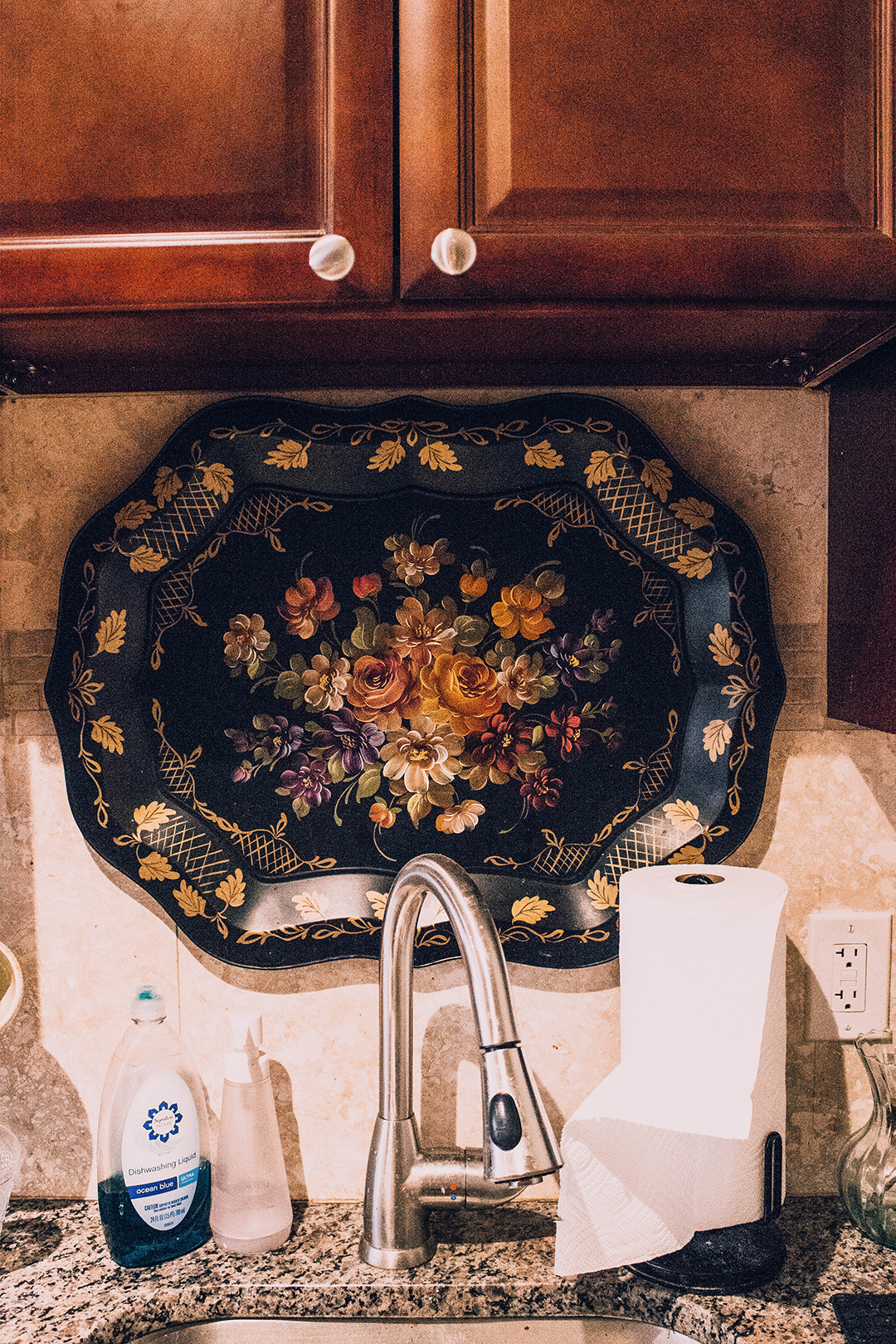 These are lightweight enough that you can display them using Command Strips. Later if you decide to restore them to their original purpose, just remove the strips!
Which of these artwork ideas is your favorite? Let me know in the comments below!