Finding a blazer for a curvy figure is a challenge. I find that it's even harder when you are a petite hourglass. I'm sure that girls of every size have a hard time with this, but for my shape and size blazers and jackets are THE HARDEST to find of any article of clothing.

You see, a tailor can take in the waist of a blazer or make the sleeves shorter, but it has to fit properly in the shoulders from the start. Getting the size that fits my shoulders often means it is too tight around the bust, but when I go up a size the arms and shoulders are baggy — and there's no fix for it.
I've learned that there are a few specific styles that especially work for me. Some of these styles will be easy to find, while others you might have to search for the perfect one. Either way, these options are great for assembling a work wardrobe that works for your figure.
Wrap Blazer
I am absolutely OBSESSED with this wrap blazer from H&M. Paired with a black dress or black fitted work pants it's incredibly interview appropriate, but I can also dress it down with a pair of jeans and casual top. It fits beautifully, the wrap shows off my waist, and it's versatile. I can't imagine a better workhorse piece for building a wardrobe.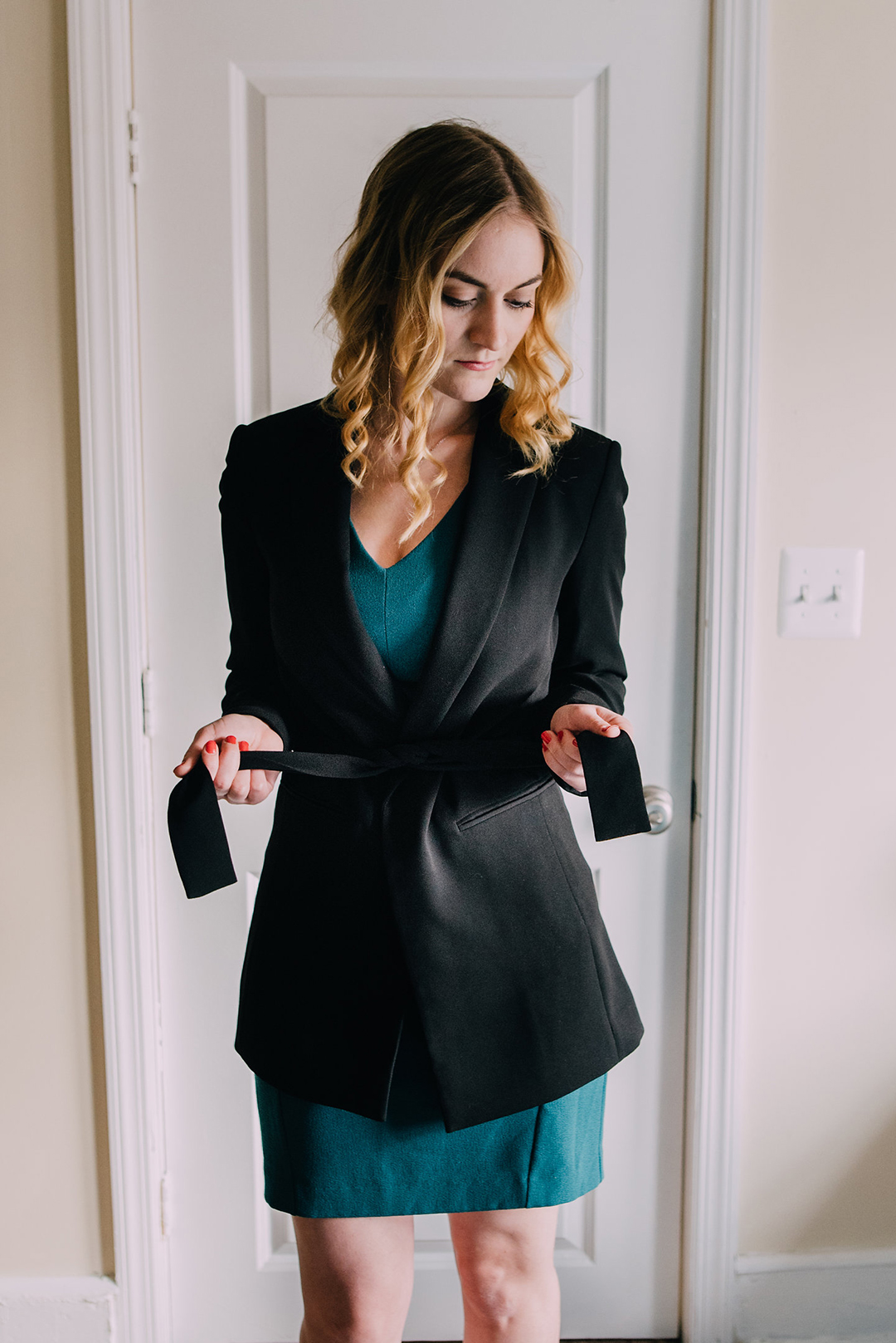 Bonus trick: If you find a long blazer that has an open front, add your own belt to make it figure flattering.
Peplum Blazer
The silhouette is great, but I got really lucky finding a piece like this that fit me. When I first purchased my black peplum blazer (left), I actually couldn't zip it up all the way, but I can now that I'm a few pounds lighter. The turquoise blazer on the right was a (very) lucky find at Goodwill for just $6. It's made of a sturdy stretch fabric, which is perfect for curves.
This piece might be a bit harder to acquire, but once you score a quality one that fits, you'll be able to wear it for years.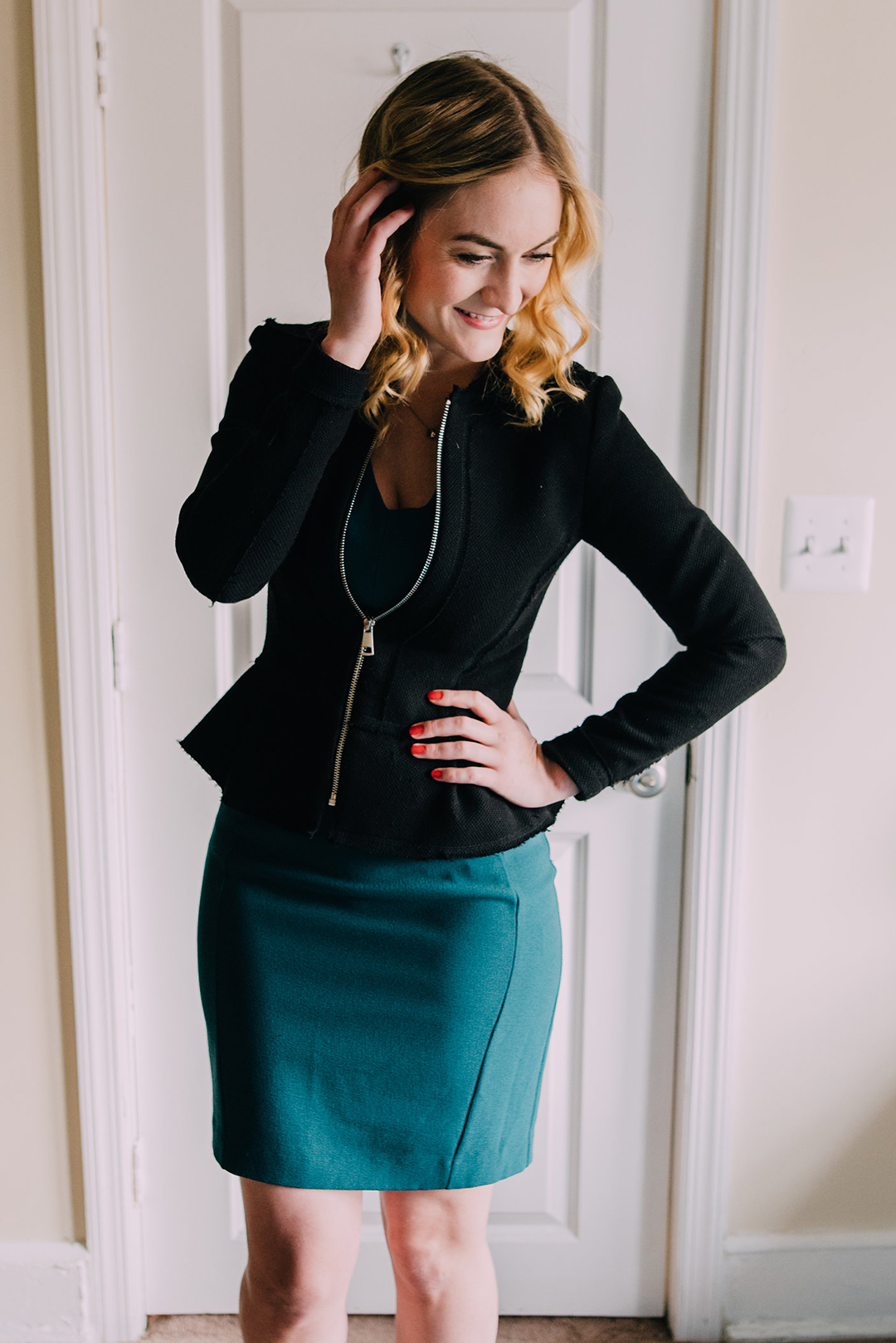 Cropped Blazer
Longer blazers that sit on the hips often camouflage your figure in an unflattering way. Choose cropped blazers that sit at the waist for a more flattering fit. I love how the gold zipper of this red blazer adds more emphasis to the waist area.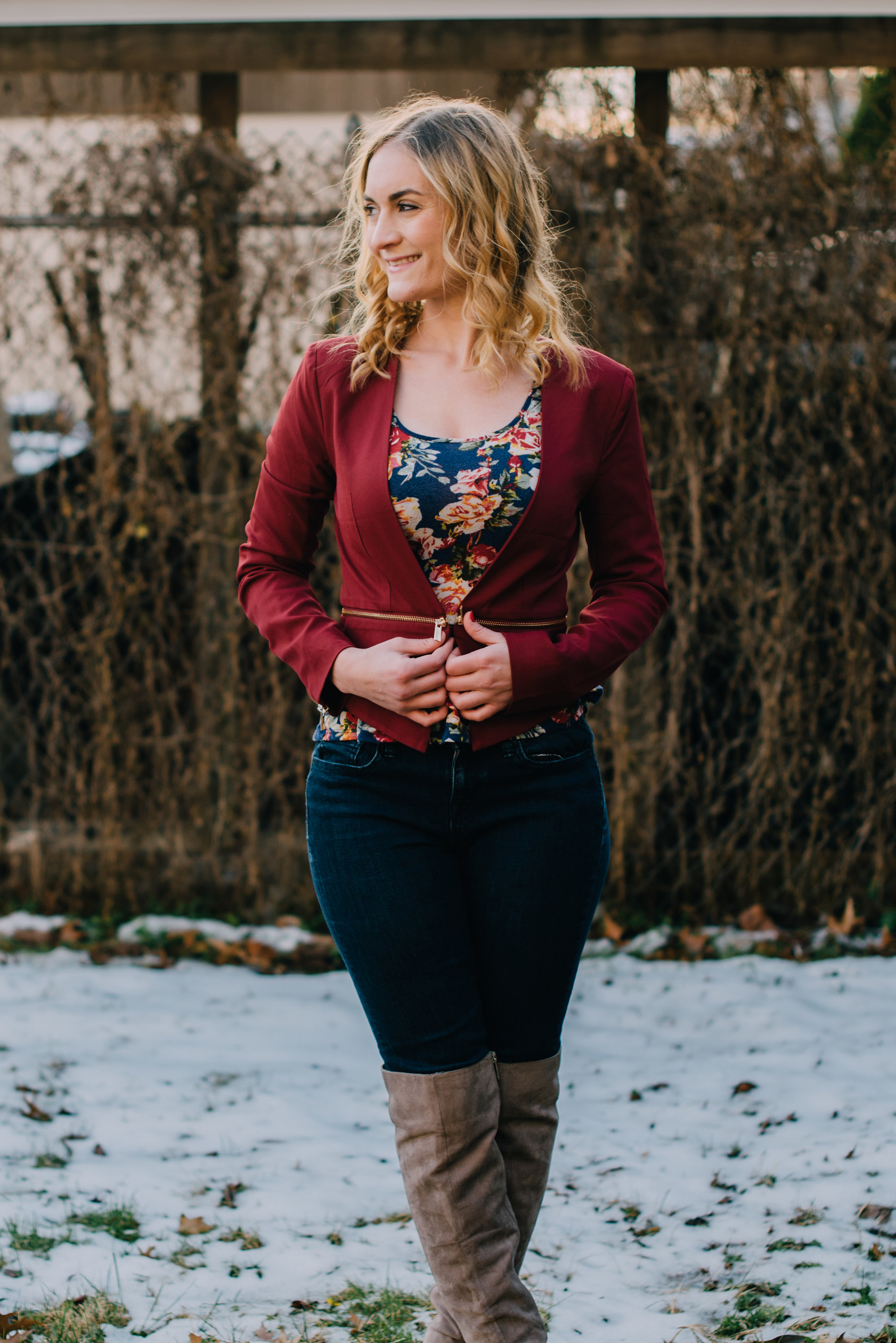 Bonus Trick: Add a hook and eye to cropped blazers that have an open front. The blazer pictured above fit me perfectly, but the open front thing doesn't work for me. Adding a hook and eye to close the front made this work so much better.
(Unfortunately I didn't add the hook and eye in time for the photoshoot, which is why I'm holding the blazer shut in the picture). This is super easy to do yourself — no need for a tailor or sewing experience. (You can easily find a good tutorial for this on YouTube.)
What is your biggest challenge when it comes to finding the perfect blazer?