Every curvy girl's wardrobe needs a strong foundation. That pretty but too-thin dress suddenly becomes modest and flattering when paired with the right shapewear. The perfect bra can take your look from, "Ehhh" to "Va-va-voom!" Conversely, a good minimizer can help you pull off a look that might be otherwise a bit unflattering.

The right undergarments can make or break your look. This handy guide will help you figure out exactly what you need to create the perfect foundation for any outfit!
Tank Tops & Shapewear
Regular tank tops or fitted shape wear tanks under your outfit are a great way to add coverage or keep your figure looking trim. I often run into problems with long tank tops. When they tuck into my pants, they leave a visible line. Or if the tank is made of spandex, the part that is meant to fit around my hips will roll up, creating a bulge under my clothes.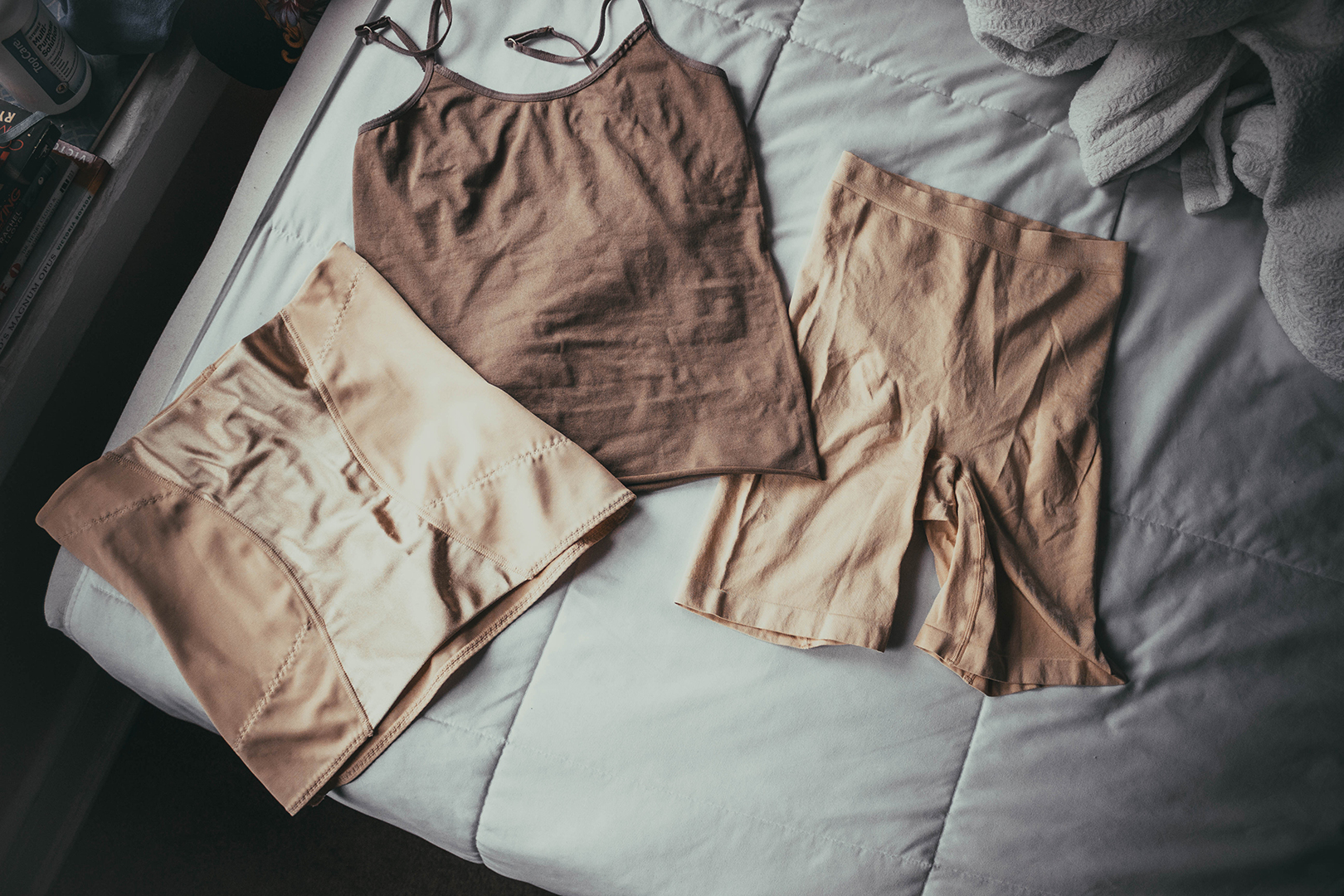 For this reason I cut most of my tank tops to fit around my natural waist, or just below it. It gives me the coverage I need without the rolling. Spandex tanks won't fray, so you don't even need to hem them after you make the cut. For heavier coverage, get a shape wear tank. I love those one-size-fits-all tank tops that Ross carries. They are smoothing but not constricting, and they are CHEAP!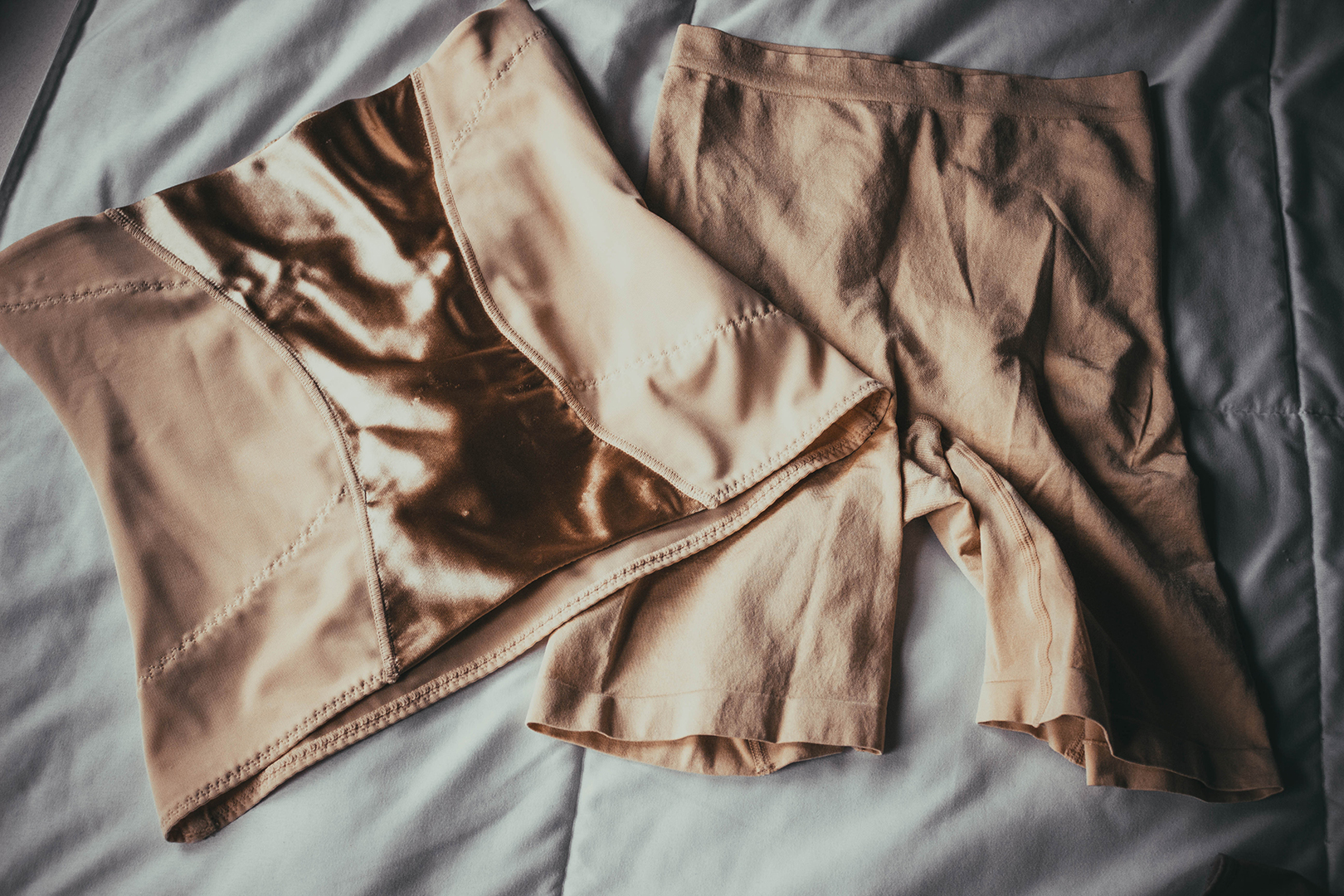 You can pair this crop tank with high-waisted spandex shorts or a waist cincher if you still want some belly shaping action. Even if you are on the thinner side, it's still a good practice to have a few pieces of shape wear. It will help your curves look smooth under your clothes and will also improve the modesty of clothing made from thin material.
My shape wear wardrobe consists of:
✓ Short tank tops in black and nude
✓ A pair of light-coverage high waisted spandex shorts
✓ A waist cincher
✓ A slip that fits at my natural waist (not pictured)
A tank top paired with high-waisted shorts is usually all I need. I rarely use my waist cincher. Most of my fitted clothes are made of thicker materials that flatter my stomach area. But if your tummy is a trouble area for you or you like thinner fabrics, this is a great tool.
Bras & Lingerie
Getting the right fit is more important than you realize! A lot of full-figured women complain that their breasts hurt their back. While this may be true in some cases, often it's not your breasts that are the culprit — it's your BRA. Wearing the wrong size can cause a plethora of back problems and pain. I've had more than one upper back spasm from a bad bra!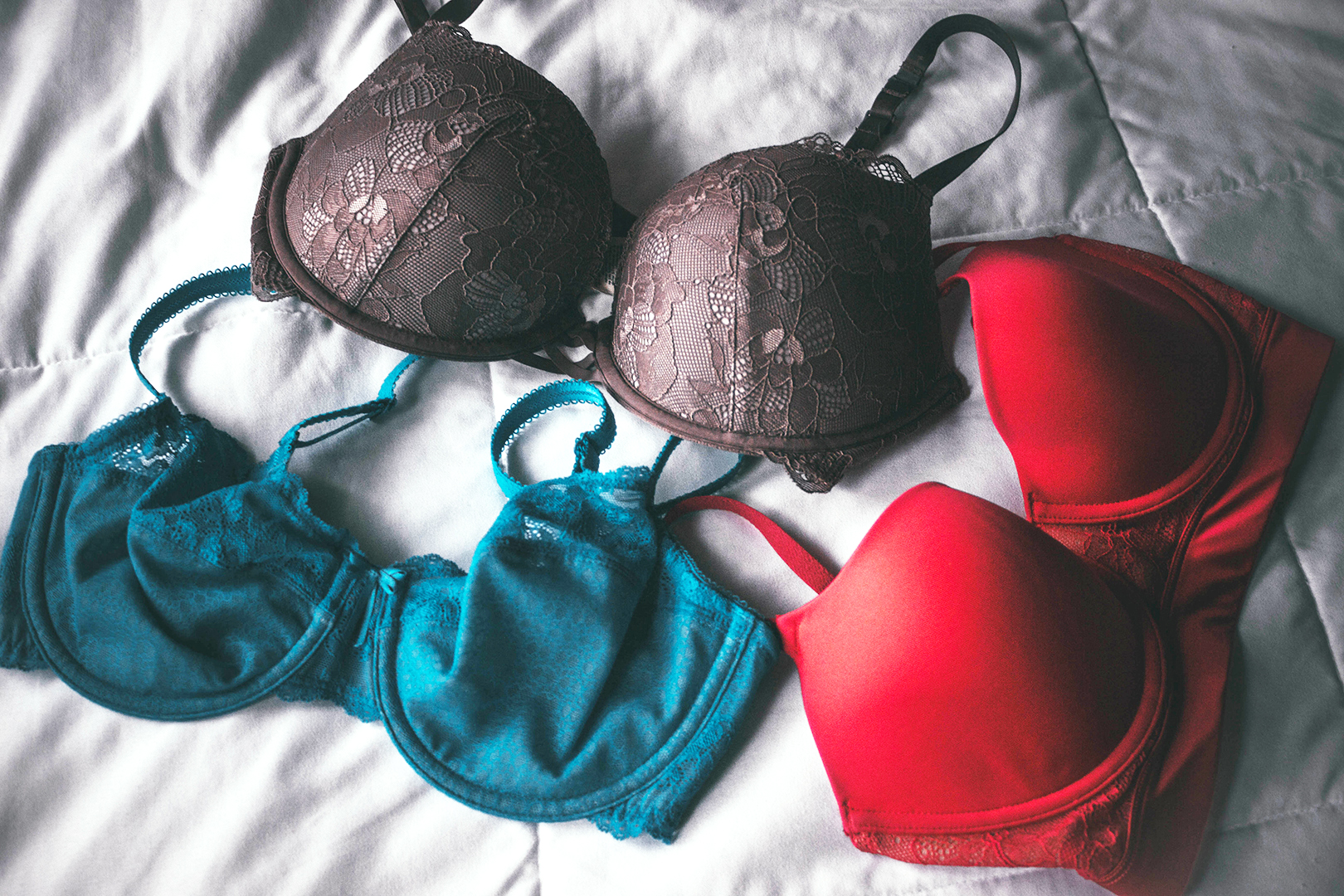 Many of us get the cup size right. You don't want your breasts to spill over, but you also don't want gaps between the cups and your breast. What most girls overlook is the size of the band. Take a look at the diagram below. Which of these images best displays the fit of your bra?

If your band is curved like the second picture, you are wearing the wrong band size. When I wore a 34DD at the beginning of college, my band looked like this. I needed to go down to a 32 band size. But I wasn't a 32DD. I was actually a 32DDD. A lot of women freak out upon discovering that they should be wearing DD+, but it's not as uncommon as you think. Many of us are just wearing the wrong size!
How the Bra-Sizing System Works
The bra sizing system is such that when you down one band size you will need to go up one cup size to get the same size cup. Conversely, if you go up one band size and down one cup size, you will also have the same size cup. For the range of sizes listed below, the cups would be the exact same size for each bra, but the band size would change.
38C 36D 34DD 32DDD 30G
So your band size is based on the size of your rib cage, and your cup size is based on the difference between the size of your rib cage and the size of your breasts. Just like my bad bras from college, the most common mistake is wearing a band that is too big and cup that is too small. If you're wearing a 34C and your band curves upward, you're most likely a 32D. If you're wearing a 36D and your band curves, you're most likely a 34DD.
Finding the Perfect Fit
Getting measured is not the most accurate way to get your correct size. It can give you a good starting point, but you need to judge size based on what it actually looks like when you wear it. You can judge the quality of the fitting specialist based on the system they use to assess your size. If they use your measurements alone, they are probably inexperienced. A quality bra fitter will give you a few size options and assess the fit by examining the band and the cups once you are wearing the bra.
If the specialist tells you that you can wear a "sister size", this is a another clue that they don't know what they are talking about. If you are a 34DD and the store is out of your size, they will recommend trying 36C because it's the sister size. Don't listen to them – they are just trying to make a sale and they clearly aren't keeping in mind the problems that result from a bad fitting bra. When the band too big and is riding up the rib cage, it will squeeze your ribs in a place that it shouldn't, causing pain (as well as back rolls). Also, the weight of your breasts is now being supported by your straps, when they should actually be entirely supported by the band. Your straps will pull down your shoulders and cause pain. All of this can cause muscle strains and misalignment that will need to be corrected by a chiropractor. It is NOT worth it.
Buy the band size that fits you on the LOOSEST hook and choose cups that are just a bit too snug over ones that are too loose. Bras start to stretch out very quickly, so giving yourself plenty of room to tighten the bra over time will extend it's life.
Another tip/warning: I know it's tempting to amp up your cleavage by tightening your bra straps, but this can REALLY harm your back. If you want more cleavage, invest in a well-constructed push-up bra with a band that fits properly. Your body will thank you!
Invest in quality bras.
Victorias Secret bras fit great (and truthfully, I have a few of them) but they aren't the sturdiest. Thicker straps and materials are the best option for everyday bras that will get the most wear. It's been said that you should have a bra for every day of the week. I prefer to have 2-3 everyday bras that I rotate. They might wear out faster, but if your weight tends to fluctuate then this will allow you to adjust your size more frequently. Bras are expensive – especially when you get into the DD+ range. If you buy a bunch of them and your size changes before you wear them out, then it wasn't the best use of your money.
Let's review! Here's a checklist of what you need to look for in a bra.
Bra Fitting Checklist
✓ Make sure the band fits straight across your back.
✓ Buy the band that fits on the loosest hook.
✓ Opt for cups that are a bit snug rather than too big.
✓ For everyday, invest in quality bras that are sturdy and well constructed.
My Ideal Bra Wardrobe
✓ At least 3 everyday bras in a neutral color
I like to have at least one lightly padded bra, one unpadded, and one that makes me appear smaller.
Whenever I'm wearing a flow-y top, a top that adds bulk to my chest area, or a dress that's a bit tight on top, I wear my "small-boobs bra". My mid-size bra ends up getting the most use (perhaps opt for two of these). I wear a padded bra when I'm wearing something that's really playing up the hourglass look, such as a fitted dress for a night out. If you are extremely full-chested, you can skip this. If you're like me and your hourglass is slightly bottom-heavy, having at least one padded bra in your wardrobe can come in handy.
TIP: Look for convertible bras that allow you to cross the straps for a racerback. This will get you the most bang for your buck because you can wear them with a wider variety of tops.
✓ One convertible strapless bra in nude
You may have to hunt for it, but it's worth having one in your closet, especially if you are in a lot of weddings and your friends insist upon strapless bridesmaid dresses. I got mine at Neiman Marcus, and it's great for strapless, off the shoulder, or one-shoulder dresses.
✓ Sports bras
A lot of fuller chested women will layer sports bras for extra support, but if you know where to look you can find them in your size. Sports bras are much easier to order online than regular bras since the fit doesn't have to be quite as precise, so I highly recommend that you try one of the online bra stores listed below.
The quantity you need really depends on how often you work out/how often you are able to wash your bras. I own two — one of them I stumbled upon at Ross and the other I ordered online.
✓ Sexy, beautiful, and colorful bras
As many as you see fit! Once you have your work horse pieces, you can have fun with the rest.
Where to Shop for Bras
Below, find a few of my favorite spots for bra shopping! There are many more options when shopping online, but it can be scary when you aren't able to try stuff on. If you're nervous about online, shop in a store first to get to know which styles and brands work well for you. If you've worn a specific brand or style before, it'll be easier to order online. You can also read reviews to learn how true-to-size a bra is.
For In-Person Shopping
Nordstrom
Neiman Marcus
Intimissi
Online Shopping
When ordering online, you'll find a lot of European sizes. Keep in mind that these are not the same as American sizes. For example, a 32E in European sizes is a 32DD in US. Always check the size charts on the site to make sure you are doing the proper size conversion.
What's your biggest bra-fitting predicament? Share your problems and your fitting tips in the comments below! (If I have a solution, I'll be sure to share it with you!)